The story behind The Magic Art Bus
The Magic Art Bus is a 1992 Ford E350 that was once a Raven's Tailgating Bus purchased in November 2022 through Facebook MarketPlace. I had no idea and still don't know much about buses but something inside of me was telling me to just DO IT!
The Ravens bus was in Maryland so I didn't really have to go too far to pick it up. After weeks of negotiating, I purchased the bus. Little did I know that it needed A LOT of work!
First, we had it at the mechanics for two months. In the meantime, I was doing research on the paint job or vinyl wrapping. This was definitely a challenge I didn't expect to spend a lot of my time on but at the same time, it was an exciting challenge I was willing to take.
After a couple of many high-end estimates, I came across a gentleman that was willing to take on the job for a small fee, done!
While that was taken care of, the next item on my to-do list was taking the toilet seat out. Yes, I said it, the Raven's bus had a toilet and two benches for people to sit on.
Mind you, I am using my personal money and have no bank loans so far. THANK YOU universe for putting people along the way that are willing to help and suggest amazing ideas.
After breaking my head about the interior, my neighbor who is a talented architect designed the interior and found an affordable carpenter to gut out the interior and reconstruct it. It has definitely been a very challenging but magical process.
I have learned so much along the way. I knew that I made the right decision by purchasing a bus versus committing to a 3-5 year lease for an art studio which ultimately is my goal. I can not wait to see the end results and see children's faces when they step inside the bus.
Discover the transformative power of process art with The Magic Art Bus! As a mobile art studio, we specialize in providing process-art experiences for all ages. Unlike traditional art classes that focus on the finished product, process art is all about the journey. It's about exploring and experimenting with different materials and techniques, letting your imagination run wild, and embracing the unexpected.
At The Magic Art Bus, we believe that art is a powerful tool for promoting peace, wonder, and curiosity in a world that can often feel overwhelming. Our process-art experiences provide a much-needed break from the chaos, allowing you to be fully present, have fun, and express yourself in a way that feels truly authentic.
We're dedicated to bringing affordable, high-quality art education for kids and adults to our communities, and we offer a wide range of open-ended art materials to encourage creativity and experimentation. Whether you're looking to book a class, workshop, or event, The Magic Art Bus is here to help you discover the joy of process art and the transformative power of creativity.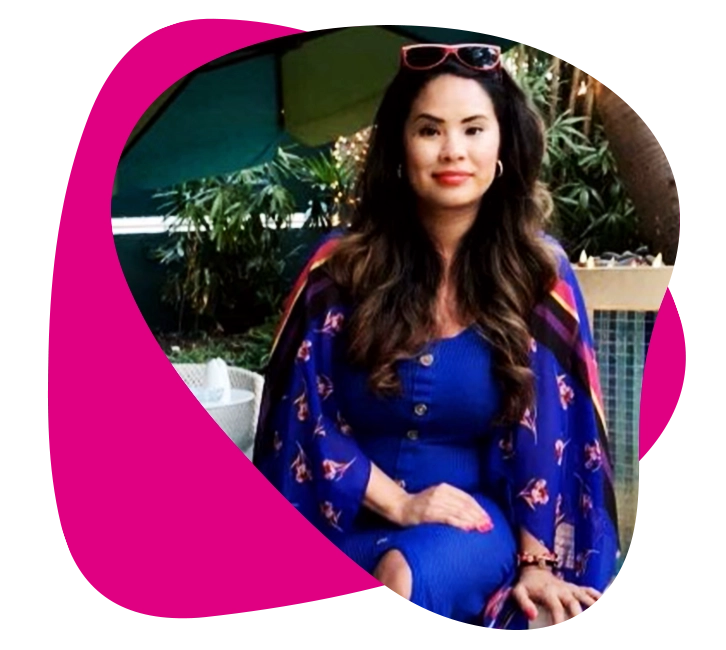 Hi, I'm Nancy Lobo, founder and owner of The Magic Art Bus! I was born in Houston, Texas, raised in Maryland and now I live in Alexandria Virginia with my fiancé, our two magical girls, Jenesis & Nova Stella (who inspire me to go for my dreams), and our three fur babies. Education and children are a passion of mine.
I worked in a preschool setting for many years and obtained an Ed.M. from George Mason University. Although I loved my career as a Director at Alexandria Preschool, I knew I wanted something of my own.
Bringing Creativity Back to the Community
I always envisioned being a businesswoman. I mean, why not, right? I always dreamt of having a school or an art studio to give children of all ages and different backgrounds the opportunity for self-expression. The Magic Art Bus is a manifestation of my dreams. I know in my heart that the bus will be an oasis for children to escape and express their creativity freely. I want to offer the opportunity to encourage authenticity and explore new things with no pressure. I can not wait to drive around the DMV and create with communities!